Broccoli Quiche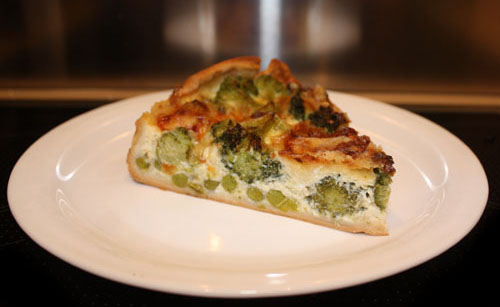 Ingredients:
1 large pie crust
1 1/2 cups broccoli
1/2 cup peas
1/2 cup chopped onion
1 cup shredded Gruyère
3 eggs
1 cup heavy cream
1/2 cup milk
1 1/2 teaspoons salt
nutmeg and pepper to taste
Directions:
Arrange the pie crust in a baking dish
Add some shredded cheese over the crust.
Add the chopped onions, then the peas, the broccoli, and then the rest of the cheese.
Mix the eggs, salt, pepper, nutmeg, cream, and milk in a bowl.

Add the egg mix over the broccoli.
Bake in a warm oven at 325ºF (170ºC) for about 1 hour, or when quiche is well done.
Let rest before serving.
---