Chanterelles (Pfifferlinge) in Cream Sauce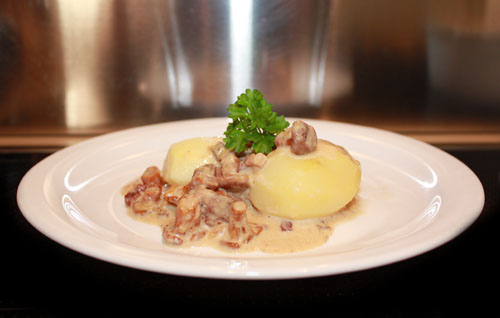 I was lucky to see chanterelles at the market. Although I do relate them to a milder climate, and although it has been so hot in the last couple of weeks that my family has been on a food strike, I must say that it was very well received at dinner time!
Ingredients:
1.5 lb (750 gr) chanterelles
1 onion – finely chopped
2 garlic cloves – pressed
7 oz (200 gr) bacon – chopped
1 cup cream
1 cup milk
1 teaspoon cornstarch
salt and pepper to taste
1/2 teaspoon nutmeg
Directions:
Wash the chanterelles very well. I do soak them in water, and rinse them well.
Fry the onions at medium heat. Add the bacon and the garlic, and continue cooking for about 10 minutes.
Add milk, cream and spices.
Right before serving, add the cornstarch previously diluted in a little bit of water, and let boil shortly.
Serve with boiled potatoes.
---