Arepas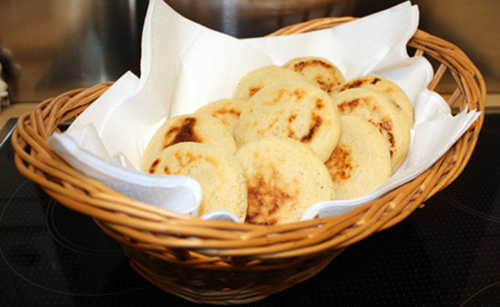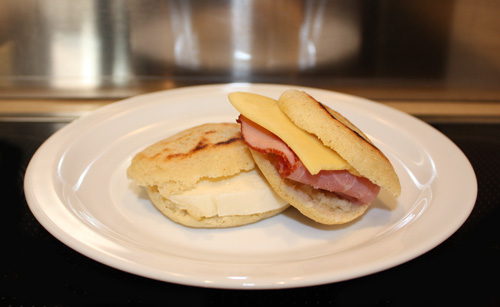 This is a Venezuelan delicacy I was happy to grow up with. There is nothing better than to eat an arepa and have a nice "cafe con leche" for breakfast. I'll break any diet for them! I'll happily skip crème brûlée – no problem – but arepas I cannot resist!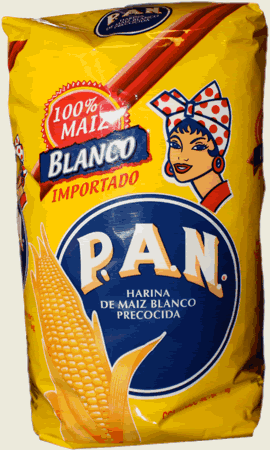 Ingredients:
2 cups Harina PAN – corn flour, available at most latin american markets (Germany: Asia Markt)
2 1/2 cups water
1 teaspoom salt
1 teaspoon sugar (brown or refined)
Directions:

Add the corn flour, salt and sugar to a bowl, and mix well.

Measure the water, and then add it all at once to the bowl.

Quickly, mix the flour and the water with one hand. You have to make sure that you do this very fast, if not, lumps will form and you will have to knead it for a long time. If you mix it while it's still liquid, you will not have to knead at all – really! Instead, now you have time to make yourself a nice coffee and relax for about 15 minutes, while the flour soaks the water.
Now it's time to form the arepas.

Take about a large spoon of dough, and first make a ball

Press it to form a disc 4 " (8 cm) in diameter and about 1/2 " (1 cm) thick – like an english muffin!

Moisten your fingers with a little bit of water and close any gaps formed when pressing the dough. The surface should be smooth. (See my Video on youtube if you need to clarify this procedure)

If you happen to be the proud owner of a "budare", please use it. If not, a cured cast iron pan will also work (that's more or less what a budare is). A budare is better than a regualr cast iron pan because the edges are low, therefore making it much easier to turn the arepas. If you do not have either one, buy one! 😉 …just kidding!!!, – just fry the arepas on a nonstick pan, with very little oil. On the budare, it is enough to add just a little bit of oil, and then spread it with a paper towel.

You need to fry the arepas for about 3 minutes on each side. This is done just to form a hard film around the arepa, so that you can finish cooking them in the oven – on the rack, not on a cookie pan! The arepa I'm pointing at was turned earlier. If you like your arepas to look lighter, by all means turn them as soon as the film forms, but if you like the toasted look, leave them a little bit longer!
Bake in oven at 350ºF (180ºC) for 10 minutes.

Let the arepas rest in a basket (cover with a clean towel) for about 5 minutes.
In Venezuela arepas are eaten almost every day for breakfast instead of bread. You slice them through the middle (again, like an english muffin), and you can fill them with ham, cheese, queso blanco (similar to mozarella), avocado slices, "carne mechada" (post coming up soon), even tomato slices… more or less, anything you would normally eat with bread!
---