Schnitzel with white asparagus and spring potatoes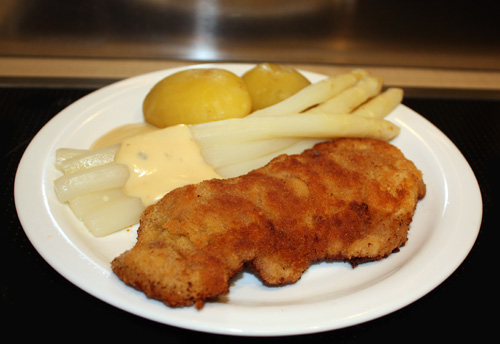 Ingredients:
For the Schnitzel:
4 pork chops (boneless)
1 cup bread crumbs
2 eggs – beaten
Salt and pepper to taste
Oil
For the asparagus:
2 lbs (1 Kg) asparagus
1 teaspoon sugar
1 teaspoon salt
For the potatoes:
2 lbs (1 kg) spring potatoes
1 teaspoon salt
Hollandaise sauce or melted butter for the asparagus
Directions:
Asparagus:
Peel the asparagus. I like to do this on a large cutting board.  Leave the asparagus on the board, and then peel the upper part of the asparagus.  This way you avoid breaking the stems.
Cut about 1/2 inch (1 cm) off the bottom part of the asparagus.
Place in an asparagus cooker, filled with hot water, add the salt and sugar, and boil for 30 minutes.
Potatoes:
Wash the potatoes thoroughly.
Boil the spring potatoes in hot water (with 1 teaspoon salt) for about 1 hour. Adjust cooking time according to the size of the potatoes.  If they are very small they may require less time.  To check, just insert a fork.  If they feel soft, then they are ready.
Let cool down for 10 minutes.
Peel the potatoes with a small knife.  You can hold the potatoes with a small fork, in case the potatoes are too hot.
Schnitzel:
Place the cutlets on a board, and using a meat hammer, pound them until they are about 1/4″ (1/2 cm) thick.
Add salt and pepper.
Pass the cutlets through the egg, and then, on a separate plate, cover them well with the bread crumbs.

Fry the cutlets at med – high heat for about 8 minutes on one side, then turn and cook again for another 8 minutes. Cook on low heat further in case they are not thoroughly cooked.
---