Hungarian Goulash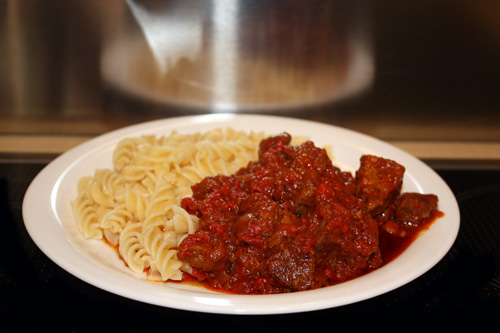 In Venezuela my family had many friends from Hungary, so once in a while my Mother made this dish… I think you are supposed to eat Goulash with gnocchi, but pasta or rice also taste good with it.
Ingredients:
2 lbs (1 kg ) beef in cubes
3 peppers (red or green or both)- chopped
2 onions – chopped
2 garlic cloves – crushed
3 teaspoons hungarian paprika
2 Tablespoons tomato puree
2 teaspoons salt
2 Tablespoons Marjoram
1 cup water
crushed pepper to taste
Directions:

Fry the onions, chopped peppers and the garlic on low heat for about 15 minutes.

In the meantime, fry the beef cubes to sear them on all sides.

Place the onions, peppers and garlic in a stew pot. Add the tomato puree.
When you are done searing the beef, add it to the stew pot.  I usually fry the cubes in small batches to make sure that the pan remains hot, so that it does not loose water.  Every time a batch is ready, I just add it to the stewpot.
When you are done with the beef, fry the paprika very shortly at lower heat, just before you add it to the rest of the ingredients.
Add the rest of the ingredients to the stew, and cook for at least 2.5 hours at low heat.
Stir once in a while and adjust heat.  Add more water if necessary.
---