Chili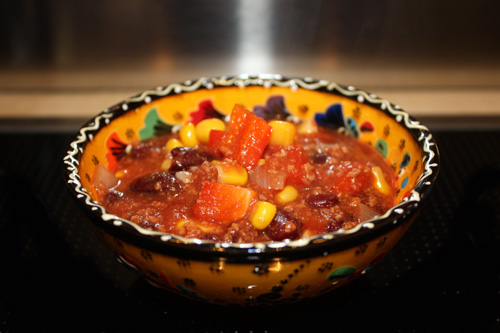 I like to make chili on a "lazy" day – a day where I know I'll be at home, and I do not want to spend too much time preparing something, but don't mind the cooking time.  It takes long to cook, but the preparation time is short, and you only need to keep an eye on it.
1 lb (500 gr) ground beef
1.5 lb (750 gr) pelati tomatoes (I prefer the ones in the tetra paks) – in chunks
1/2 lb (250 gr) tomato puree
2 Tablespoons tomato paste
2 onions – chopped
2 peppers – chopped
2 cups canned kidney beans
2 cups canned corn
2 garlic cloves, minced or pressed
2 teaspoons chili powder
2 teaspoons salt
1/2 teaspoon sugar
———-
Extras to serve with:
A couple Baguettes
Any nice hot sauce
Directions:
Start by making a "sofrito":  fry, at low-medium heat, the chopped onions, peppers, and garlic, for around 15 minutes.
In the meantime, cook the ground beef, pelati tomatoes, puree and tomato paste in a large pot. Remember to mix all really well at the beginning, so that the ground beef does not lump together.
Add the "sofrito" to the meat, and cook on low for about 1 hour.
Now add the rest of the ingredients and continue cooking at a very low temperature for at least another 40 minutes.
Check for seasonings.  Add more chili to taste or, better yet, have some nice hot sauces handy to serve with!
Serve with baguettes.
---