Baba Ghanoush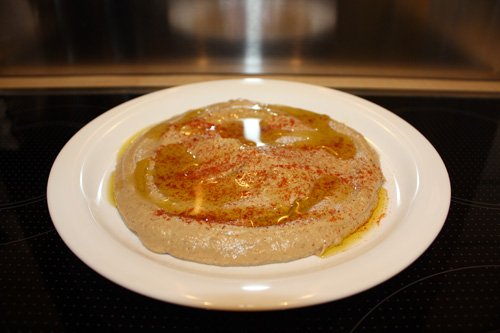 This is very similar to the Hummus, but made with roasted eggplants.
Ingredients:
3 large eggplants
2 Tablespoons Tahini (sesame seed paste)
1/2 lemon (juice)
1/2 teaspoon ground cumin (if you are in Germany, buy the cumin for this recipe at an Asian Market – German cumin tastes different)
1 teaspoon salt
1 dash allspice or four spice mix (Quatre-épices)
1 Tablespoon Olive oil
—-
sweet paprika and olive oil to decorate
Pita bread to serve with
Directions:

Place the eggplants on a pan, and roast them in the oven at 350º F (180º C) for 1 hour. Check every now and then to turn them to make sure that the eggplants are roasting evenly.
Let the eggplants cool down in the fridge for about 3 hours.
Slice the eggplants and then use a spoon to take the flesh out and place in a food processor.
Add the rest of the  ingredients and blend to a paste.
Spread some Baba Ghanoush on a Plate (see above image), and then sprinkle some sweet paprika on top.
Pour around 3 Tablespoons olive oil over the Baba Ghanoush.
Serve with Pita bread.
---