Salsa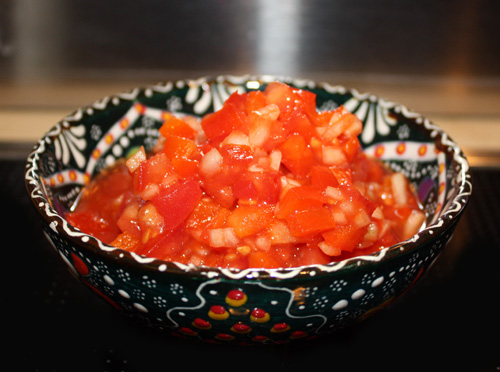 My Comadre tought me how to make this recipe. It's much tastier than the commercial salsas, healthier, and you can make it as hot or mild as you want.  Since I learned how to make it, I refuse to buy the ready made alternative!
Ingredientes:
3 tomatoes – chopped finely
1 pepper – chopped finely
1 small onion – chopped finely
1/2 cup tomato puree
1 teaspoon salt
1 Tablespoon vinegar
2 Tablespoons olive oil
1/2 lime – juice
extras:
cilantro chopped finely
corn
jalapeños
hot sauce
Directions:
Fry the chopped peppers in a little bit of oil for about 5 minutes.
Mix all ingredients in a bowl, and refrigerate for 1 hour. Choose your extras, and make it according to your taste.
---