Crispy Fish Fillets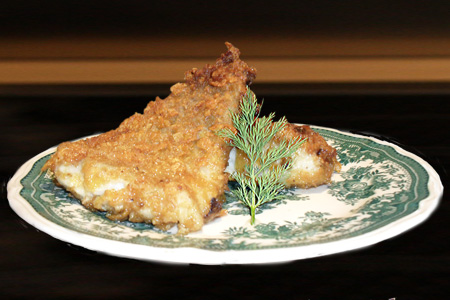 This recipe I figured out while on vacation in Sylt, Germany.  The fish used is called Seelachs in german (pollock) and is very mild in taste. Kids approved!
Ingredients:
1.5 lbs Fish fillets (2 Pollock filets)
2 cups corn flakes
1/2 cup flour
2 eggs
Oil for frying
Salt to taste
Directions:
Wash thoroughly the fillets and pat dry.  Remove any remaining bones.  If you run your fingers down the fillet, you will be able to feel a line where they are located.  I usually just cut along that line and remove that piece.
Cut the fillets in 5″ smaller pieces and add salt to taste.  I prefer not to use any salt at all, but if you like, add a little.
Place the 2 cups of corn flakes in a small plastic bag and crush it with your fingers.  Add the flour and mix well.
Beat the eggs in a bowl.
Pass each fillet piece through the egg batter and then insert it in the bag.  Shake the bag so that each filet piece is coated with the flour mix.  Set apart.
Fry the fish in a pan for about 5 min on each side.  Depending on the width of the filets, it could take a little more or less time.
---