Greek Salad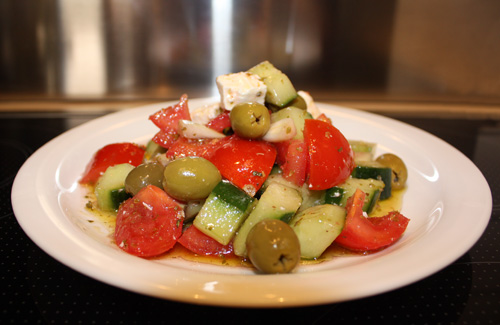 This salad I learned to make with Chris, a dear friend of mine from Cyprus, while going to school at Indiana University. Ever since, it has been a favorite of mine, specially at large gatherings, for its ease of making, and because it is a salad that you can make a few hours in advance.
Ingredients:
2 large cucumbers
8 tomatoes
3 onions
1/2 cup wine vinegar
1 cup olive oil
3 Tablespoons oregano
2 – 3 teaspoons salt
1 cup olives
1 cup feta cheese
Directions:
Peel the cucumbers lengthwise, leaving some green stripes in-between.

Cut lengthwise in four and remove the seeds.
Cut in cubes.

Slice the tomatoes lengthwise and remove the seeds.
Cut the tomatoes in medium pieces.

Cut the onions in medium pieces (similar in size to the tomatoes).

Add the oil, then the vinegar, salt, oregano, and olives, and let it rest in the fridge until you are ready to serve.

Add the feta cheese ( in small cubes). Mix again and serve!
---