Moussaka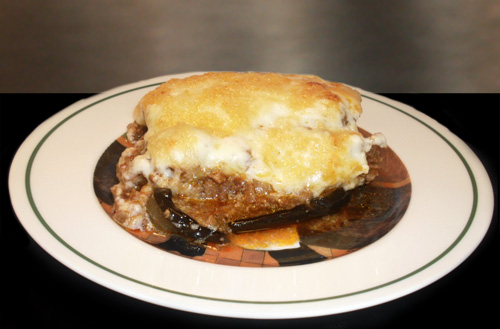 Hola Sonia, aquí te dedicamos mi mamá y yo la receta! It's been a very long time since we have made Moussaka at home. We adjusted the preparation of the eggplants to save on a few calories … We have been grilling eggplants for so long , that it didn't seem very appetizing to fry them anymore!
Ingredients:
1.5 lbs (750 gr) ground beef
2 large onions – chopped finely
4 garlic cloves – pressed
2 teaspoons salt
pepper
1/2 teaspoon cinnamon
1 teaspoon parsley
1 teaspoon Herbes de Provence
1 teaspoon sugar
2 cups chopped tomatoes – peeled
5 Tablespoons flour
3 oz (75 gr) butter
2 cups milk
1 teaspoon salt
Pepper and nutmeg to taste
7 oz (200 gr) grated cheese
Olive oil
Directions:
Eggplants:

Slice the eggplants lengthwise and place on a lined cookie sheet. Brush olive oil over them, and bake at 350ºF (180ºC) for about 15 minutes.
Meat sauce:
In a large pan, fry the onions and the garlic in a little bit of oil.
Add the ground beef.
Add the chopped tomatoes, salt, pepper, cinnamon, parsley, Herbes de Provence, and sugar, and cook at medium heat for about 1.5 hrs. The consistency should be that of the meat used for lasagna… not too dry, but not too watery.
For the cream sauce:
In a saucepan, melt the butter at medium heat.
Add the flour and let fry while stirring constantly for about 2 minutes.
Add the milk, salt, pepper, and nutmeg. Bring the heat to medium – high, and continue stirring until it starts to boil.
Putting it all together:
Cover a deep baking dish with a little bit of oil.

Start with a layer of eggplant.

Now add a layer of meat sauce.

Another layer of eggplant

Another layer of meat sauce.
Now comes the cream sauce.

And at the end the grated cheese.
Bake for 1 hour at 320ºF (160ºC)
---