Klimpas Soup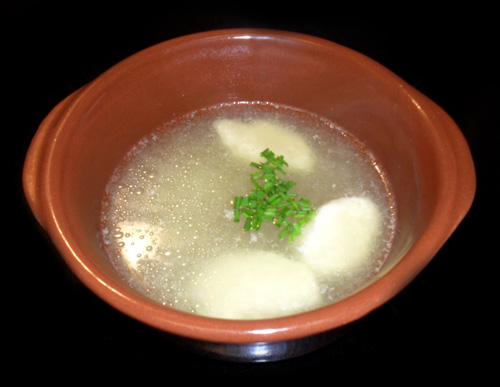 This used to be my childhood's favorite soup! My Latvian great-grandmother used to make it when I was very, very young, and then my mom took over the recipe. I just learned it from her! Here's the recipe:
Ingredients:
Consommé – see yesterday's post
1 egg
3 Tablespoons flour
1/4 cup water
salt and pepper
chives – chopped
Directions:
Warm up the Consommé.
Mix the egg with the flour well.
Add salt, pepper and water, and mix well.
With a small teaspoon, add batter, one spoon at a time, slowly, into the broth.
Warm up the soup, and let it cook, so that the "Klimpas" are cooked – about 10 minutes.

Serve and add a little bit of chives.
---