Cheese Quiche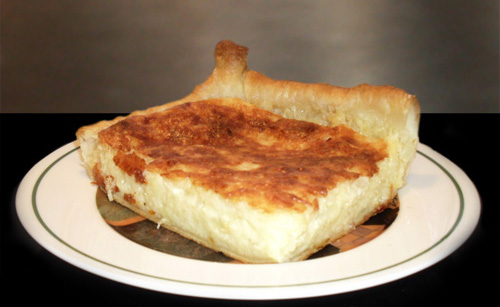 Being in Switzerland at the moment, there's no wonder all my dishes this week are packed with cheese. This is no exception!
1 lb (500 gr) grated Swiss cheese
1 teaspoon cornstarch
3/4 cup half & half (or milk)
1 Tablespoon flour
2 Tablespoons ricotta
1 egg
1 onion – finely chopped
Pepper, salt, and nutmeg
1 sheet puff pastry
Directions:
Fry the chopped onion for about 15 minutes at medium heat. Let cool.
Mix the flour with a little bit of the milk first to make a paste.
Add the rest of the milk, egg, ricotta, onion, salt, pepper and nutmeg.
Mix the grated cheese with 1 teaspoon cornstach. Add to the batter and mix well.
Line a baking pan with parchment paper (baking). Place the puff pastry sheet and then add the cheese batter.

Bake in a 350ºF (180ºC) oven for 30 minutes.

---