Geschnezeltes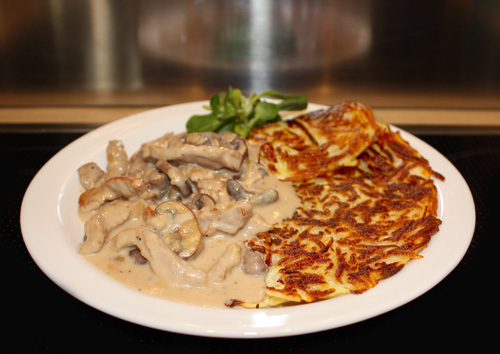 This dish I learned with my grandmother (father's side). I remember watching her make it when I was a kid, and I was truly amazed to see that you could make a sauce by just adding cream to a pan after frying the meat.  It is an obvious thing as an adult, but for me it was magic!
Ingredients:
1 lb (500 gr) boneless pork chops sliced thinly (as for stir-fry)
1/2 lb (250 gr) mushrooms (champignons)
1 onion – finely chopped
2 garlic cloves – pressed
1 teaspoon salt
1/2 teaspoon pepper (black and red blend – finely ground)
1/4 teaspoon ground nutmeg
1 cup heavy cream
1 cup milk
1 teaspoon cornstarch (diluted in a little bit of water)
Optional:
Directions:

Fry the chopped onion for about  5 minutes at medium heat in a deep pan.  Add the sliced mushrooms and the pressed garlic, and fry for another 15 minutes.

Fry the meat at high heat to sear it.  Add to the mushrooms and onions.
Add milk and cream, pepper, nutmeg, and continue to cook for another 15 minutes.
Add cornstarch and let boil to let the sauce thicken.
Serve with Rösti.
---