Frikadellen – Meat Patties – Albóndigas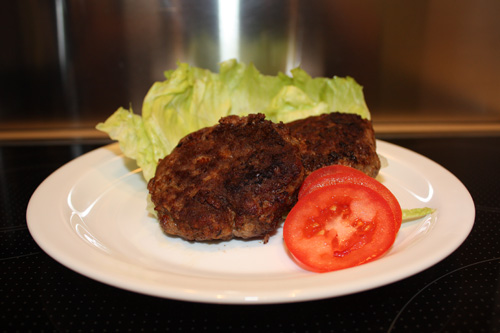 These meat patties can be found all around Europe with small variations from country to country. They taste great alone with some mustard or ketchup, or eaten with a bun "hamburger style".
Ingredients:
2 lbs ground meat (1/2 pork, 1/2 beef)
2 Tablespoons sour cream
1 Onion – finely chopped and fried in a little bit of oil
2 Eggs
2 Slices of sandwich bread
1 teaspoon salt
1/4 teaspoon black pepper
Directions:
Chop the onion finely and fry it for about 10 min at low heat.
Put the bread slices in a bowl, add water and let it soak. Then take the crust off and squeeze the water out.

In a big bowl, add the ground meat, bread, sour cream, onions, eggs, salt and pepper and mix well.
Make the meat patties (about 4.5 " in diameter and about 1″ thick) (11 cm diameter, 2 cm thick)

Start frying them at high heat (to sear), and then bring the heat down to medium and continue frying for about 10 – 15 min each side or until done.
---