Tafelspitz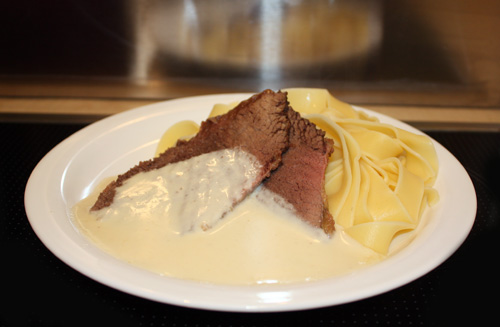 This is a typical dish of Bavaria (Germany).
Ingredients:
2 lbs (1 Kg) tri-tip (bottom sirloin, tafelspitz or punta)
2 carrots
1 stalk celery
1 Tablespoon salt
Sauce:
2 Tablespoons horseradish
1 1/2 cups heavy cream
3 Tablespoons of the broth you boiled the meat in.
1 teaspoon cornstarch diluted in a little bit of water
nutmeg
Pepper to taste
Extras:
Pasta (tagliatelle) or Spätzle.
Directions:
Boil the beef for 2 hours.  Add salt, peeled carrots and celery, and continue boiling for at least another 2 hours, or until tender.
TIP:  I usually make this dish and carne mechada at the same time.  I boil 4 lbs instead, and then make both dishes out of it at once!
To make the horseradish sauce, add the heavy cream, horseradish, nutmeg and broth. Cook for 5 minutes.  Add the cornstarch and adjust salt and pepper.  Let boil for a little bit, so that the sasuce thickens.
Serve with spätzle or with pasta.
---