Bolognese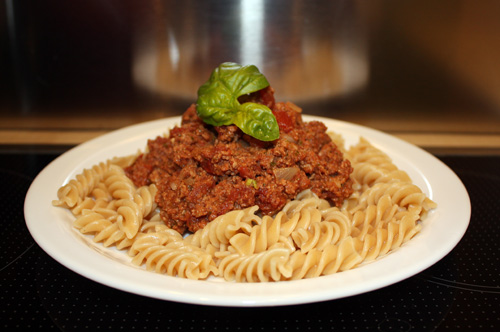 This is my version to make a Bolognese sauce very quickly!  It needs lots of time to cook, but the "putting together" does not take long at all. For those of you who make it the "old fashioned way", just give it a try…
Ingredients:
1 lb (500 gr) ground beef
1.5 lb (750 gr) pelati tomatoes (I prefer the ones in the tetra paks) – in chunks
1/2 lb (250 gr) tomato puree
2 Tablespoons tomato paste
1 onion – chopped
2 garlic cloves, minced or pressed
1 pesto recipe
1 additional teaspoon salt
1 teaspoon sugar
black pepper to taste
Directions:
Now this is the easy part… Add all your ingredients to your stock pot and mix them really, really well. No need to fry anything first – really!  I usualy use a crock pot, but you can use a large stock pot, and start cooking on high, and as soon as it has just started to boil, bring it down to low.
This is a dish that you can cook for hours… the longer, the better!  Just make sure to check that it is not sticking to the bottom , and that it has enough liquid… add water if needed.
Serve with your favorite pasta. My kids like rotelli, just because they are easier to pick up!  …and do not forget to add parmesan cheese!!!
(Serves 4)
---