Komm Morgen Wieder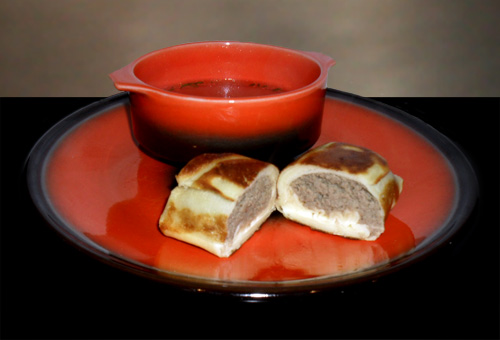 This is a Latvian Specialty. I have searched to find out the origin of the name without any success. All I know is that the Latvians that left Latvia in the 40's call them "Komm Morgen Wieder" which means "come back tommorow" in German, and the Latvians that stayed in Latvia call them "Pildītas pankūkas" which means "filled crepes" in Latvian.
If anyone knows, please enlighten me!!!
Ingredients:
2 lbs (1 Kg) sirloin – in large cubes
4 carrots
1 stalk celery
1 large onion – quartered with skin
1 Tablespoon salt
1 Onion – chopped finely
Nutmeg
Pepper
Salt
Maggi sauce – just a tiny bit
2 Tablespoons chives – chopped
Directions:
Boil the beef with the peeled carrots, onion, celery, and salt for 2 hours, or until tender.

Strain the broth, and save in a new pan.
Fry the finely chopped onion in a little bit of oil.
Place the meat in a food processor. Mix it until the meat is smooth.

Add the fried onion.
Add nutmeg, salt and pepper to taste. Add the Herbes de Provence and the Maggi sauce.
Add some broth to the meat if it's too dry. It should be smooth – not too dry, not too watery.
Make Crêpes
Make the Komm Morgen Wieders

Place 1 Tablespoon of meat in the middle-bottom of the crepe.

Fold one side.

Fold the other side.

Fold the bottom.

Roll it up.

Add a little bit of chives to the broth.
Serve broth and Komm Morgen Wieders side-by-side!
---