Mushroom Cream Sauce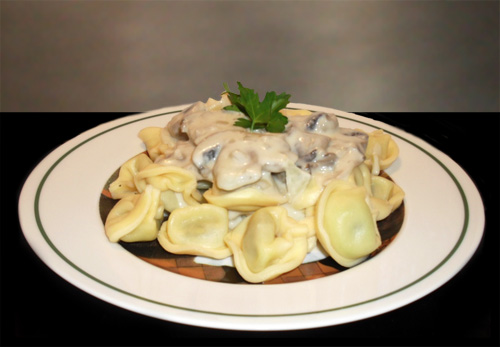 1 lb (500 gr) fresh mushrooms – sliced
1/2 onion – finely diced
2 garlic cloves – pressed
1 cup heavy cream
1 cup milk
Salt
Pepper
Nutmeg
1 teaspoon cornstarch – dissolved in water
Parmesan or Pecorino – grated
Cooked tortellini
Directions:
Fry the onion and the garlic in a tiny bit of oil by low heat for 2 – 3 minutes.
Add the mushrooms and continue frying for another 15 minutes.
Add the cream and milk, and continue cooking.
Add salt, pepper and nutmeg to taste.
Add the cornstarch and bring it very shortly to a boil, making sure you are mixing it very well – Use a whisker so it doesn't clump.
Serve with tortellini, parmesan or pecorino.
---