Chicken Fajitas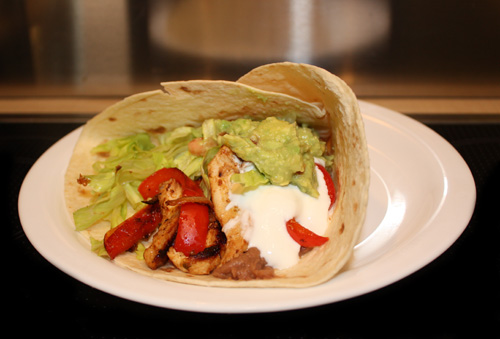 I love this dish. Yes, it does take more time to prepare all the ingredients, but then it is a lot of fun to eat!
Tip 1:  leftovers taste great, so do not worry about making too much of anything!
Tip 2:  Cover the leftover guacamole with plastic wrap.  I place the wrap so that it is in direct contact with the guacamole – so that there's no air between guacamole and wrap.  This way, your guacamole will stay nice and green the next day!
Ingredients:
Sour cream or plain yogurt
Flour tortillas
4 Chicken breasts – sliced thinly
2 peppers – sliced
2 onions – sliced
1 large lemon
4 Tablespoons olive oil
1.5 teaspoons salt
pepper
4 garlic cloves crushed (3 for marinade, 1 to add to the pepper and onion slices)
1 can of re-fried beans
Grated cheese
Directions:
Prepare the guacamole and the salsa.
Warm up the re-fried beans on the stove.  Add a little bit of water to make it easier to stir.
Fry the onion and the pepper slices.  Add 1 crushed garlic clove.
Combine lemon, salt, pepper, oil and garlic (3 cloves).
Add chicken, mix, cover and place in the fridge for about 2 hours.

I like to fry the chicken in smaller batches, to sear and then cook.  This way the chicken stays tender.
Combine the chicken with the pepper-onions and fry until the chicken is well done.
Warm up the tortillas on a non-stick pan.  You just need to turn them a couple of times quickly, just to warm them up.
Serve all ingredients separately, so that each person can make his/her favorite fajita combination.
---