Chupe andino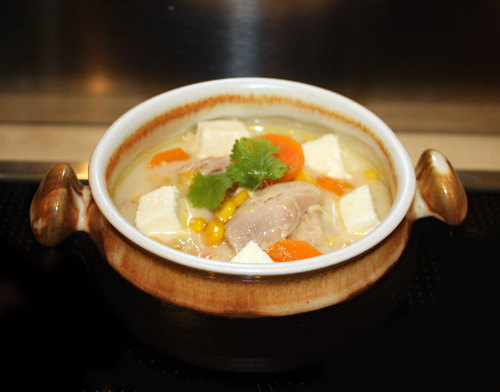 This is one of my favorite Venezuelan soups.  It is really nice to make when expecting guests that are traveling and are not sure when they arrive, because it is a main dish, and you do not have to worry about any last minute cooking!
Ingredients:
1 whole chicken or 6 legs (thighs & drumsticks)
4 celery sticks
6 carrots –  peeled and sliced thinly
2 leeks – clean well and cut in thin round slices
6 potatoes (peeled and quartered)
2 cans sweet corn (or you can use corn on the cob, sliced)
2 teaspoons salt
1 cup evaporated milk
1 cup milk
cilantro – chopped
white cheese (queso blanco) or mozarella – in small cubes
Hot sauce – optional
Directions:
Clean the chicken, and place in a large stock pot. Add enough water to just cover the chicken. Add the salt, and the celery sticks.
Bring to a boil, and then continue cooking at medium heat for 1.5 hours.
Place the chicken on a plate while you pass the broth through a sieve to remove impurities.  Remove as much fat as possible from the broth.
Remove the bones from the chicken pieces and cut the meat in small chunks.
Add the chicken, potatoes, carrots and leeks to the broth. Bring back to a boil and then continue cooking at medium heat until the potatoes are cooked.
Add the evaporated milk and the milk.  Check for salt and add some pepper to taste.
When serving, add some cheese cubes and a little bit of chopped cilantro.  If you like, add a little bit of hot sauce to spice it up.
---