Carbonara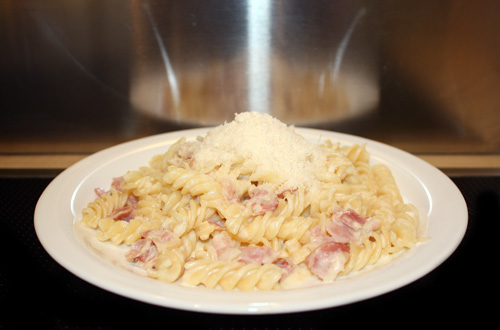 I think I learned how to make this dish in the US – I guess that's why I add cream to it…  I'm still categorizing it as Italian, although the original should not have any cream in it!
Ingredients:
7 oz (200 gr) bacon – diced
3.5 oz (100 gr) ham – diced
1 onion – finely diced
2 garlic cloves – pressed
1 cup heavy cream
1 cup milk
2 egg yolks – mixed with a little bit of milk
Salt
Pepper
Parmesan or Pecorino – grated
Cooked pasta
Directions:
Fry the onions in a tiny bit of oil by low heat for 2 – 3 minutes.

Add the garlic, bacon and the ham. Fry for another 5 minutes at medium heat.
Add the cream and the milk and bring it to a boil.

As soon as it starts to boil, take it away from the heat and add the egg yolk – milk mix and mix well.
Put it back on the stove, and bring it back very, very shortly to a boil, making sure you are mixing it very well – Use a whisker so it doesn't clump.

Mix the carbonara sauce with you favorite pasta, and add lots of parmesan on top!
---