Pork Filet with Prunes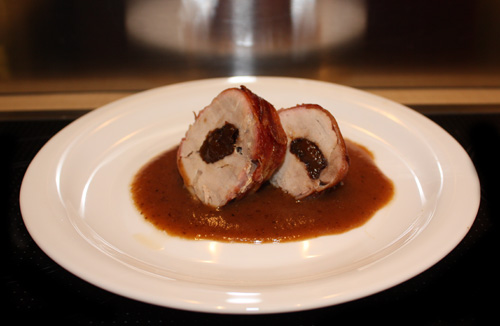 Ingredients:
1 Pork filet
15 – 18 prunes
2 Onions – chopped in large chunks
7 oz (200 gr) sliced bacon
salt and pepper
1 cup water
Directions:

Slice the Filet lengthwise.  Place prunes along the middle. Sprinkle salt and pepper.
Wrap the filet with the bacon stripes.
Add the remaining prunes and the onions to the baking dish.
Add 1 cup of water.

Bake in a warm oven at 350ºF (180 – 200ºC) for about 1 hr 15 min, or until Filet is well done.
Place the meat on a cutting board.
Take out most of the prunes, leaving about 1 – 3.  With a stick blender, puree the onions and the prunes.  Add water in case there is not enough to make a nice sauce.  Taste, and adjust salt to taste.  You can also start blending without the prunes, and add and blend according to taste. Strain the sauce, add to a serving dish.  Cut the Filet in medallions, and serve on top of the sauce.
---