Turmeric and Ginger Pork Stir Fry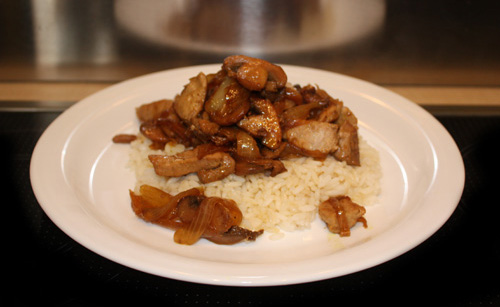 I was at the Asia-Markt this morning, and they had Ginger Turmeric tea. I must say I found the combination so interesting I had to have it for dinner – not the tea – the stir-fry!
Ingredients:
1/2 lb pork meat – sliced
2 onions – sliced
2 cups mushrooms – sliced
1 teaspoon turmeric
1 teaspoon ginger
1 teaspoon bown sugar
3 Tablespoons Soy Sauce
Directions:
Fry the Onions and the Mushrooms. Set aside.
Fry the meat. Add the spices, add the onions and mushrooms, cover and let it cook until the meat is well done.
Serve over rice.
---