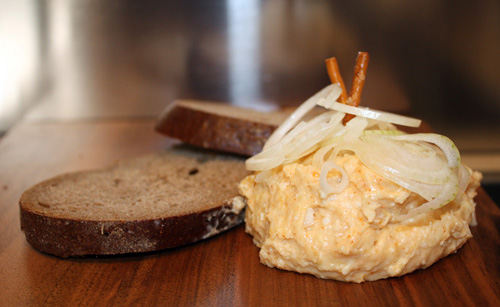 This is a nice appetizer, usually served at a "Beer Garten"  in the southern part of Germany.
Ingredients:
1 small Camembert cheese (around 9 oz)
1 small onion quartered
1/2 small onion chopped very finelly
1/2 small onion in thin slices (for decoration)
2 tablespoons soft butter
1.5 teaspoons sweet paprika
1/2 teaspoon salt
Dark bread
Small pretzels for decoration
Directions:

Cut the Camembert in small chunks and place in a food processor or in a bowl.
Add the butter and the 1 onion in small chunks, and mix well with the food processor or with a stick mixer until a paste is formed.
Add the salt, sweet paprika and finely chopped onion and mix with a spoon.
Let the Camembert Spread cool in the fridge for about 1 hour.
To serve, use an ice cream spoon to form it into a ball.
Add the sliced onions on top to decorate and serve with pretzels and dark bread.