Chocolate Gugelhupf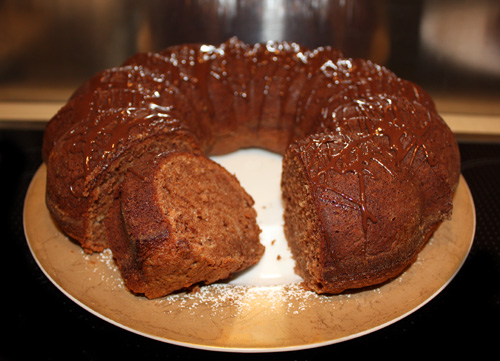 I adjusted one of my great-grandmother's cake recipes to please my kids… they wanted chocolate!
I will eventually post the original recipe.
Ingredients:
7 oz (200 gr) Butter
1 cup sugar
4 eggs
1.5 cups flour
1/2 cup milk
1 teaspoon baking powder
1 teaspoon vanilla
3.5 oz (100 gr) melted chocolate
1 oz melted chocolate to decorate – optional
Direcions:
Separate the eggs. Place the yolks in a small bowl, and the whites in a big one.
Beat the egg whites with a mixer until peaks form. (Tip: Most recipes ask you to do this at the end, but by doing this first, you avoid having to wash the blades at the end, before beating the egg whites!)
In a gib bowl, blend the butter with the sugar.
Add the eggs and blend for about a minute.
Measure the flour, add the baking powder, and mix with a spoon to blend it well.
Add the flour mix and the milk and blend for about a minute.
Add the rest of the ingredients, and mix with a spoon.
Place the batter in a Gugelhupf mold (spread a little bit of butter first, and sprinkle a little bit of flour first).

Bake in a preheated oven at 350ºF (180º F) for half an hour. Always check with a toothpick to make sure that it is ready!
Decorate with the extra melted chocolate.
---