Schnitzel – cordon bleu style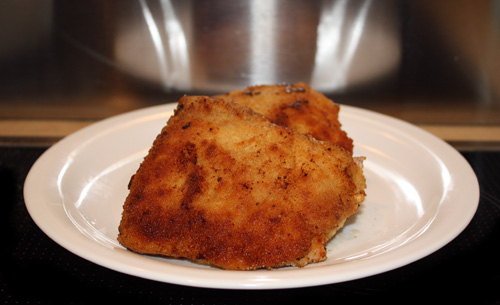 This is a Schnitzel variation served here in Germany.  I used to know it with chicken only, but this is also very tasty!
4 pork chops (boneless)
4 ham slices
4 cheese slices
1 cup bread crumbs
2 eggs – beaten
Salt and pepper to taste
Oil
Schnitzel:
Place the cutlets on a board, and using a meat hammer, pound them until they are about 1/4″ (1/2 cm) thick.
Add salt and pepper.

Place ham and cheese slices over it.

Fold the cutlet.
Pass the filled cutlets through the egg, and then, on a separate plate, cover them very well with the bread crumbs.
Fry the cutlets at med – high heat for about 8 minutes on one side, then turn and cook again for another 8 minutes. Cook on low heat further in case they are not thoroughly cooked.
---