Lemon Chicken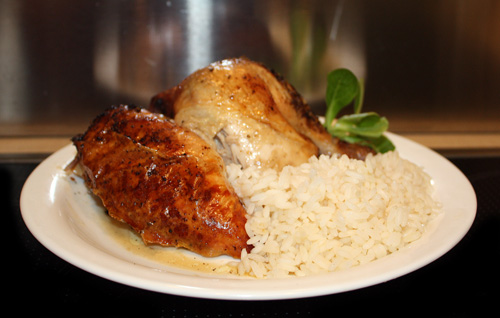 This recipe is a combination between the way roast chicken is made in Venezuela and the way I used to make it in Florida… It's also an easy recipe when the kids have friends over – I still have not met a kid yet that didn't like lemon chicken!
(This recipe serves 8 – adjust for 4)
2 chickens
4 garlic cloves
2 – 3 lemons – juice
2 tablespoons dried oregano
2 teaspoons garlic powder
3 teaspoons salt
pepper to taste
4 onions – quartered
Olive oil
1 cup water
1 teaspoon cornstrch – optional
Directions:
Wash and pat dry the chickens.
Place them in a large pan.
Squeeze the lemons over the chickens.
Sprinkle the salt, pepper, garlic powder, and oregano.
Sprinkle a little bit of olive oil over the chickens.
Place the garlic cloves in the chicken cavities.
Place the quartered onions around the chickens.
Add the water to the pan.
Place in an oven at 350ºF  (180ºC) covered for about 40 minutes.  Uncover, make sure that it has enough water, and continue baking uncovered for about another hour. Make sure it is thoroughly cooked before serving!
Add 1 teaspoon cornstarch diluted in water to the sauce and let it boil for just a sec if you would like a thicker sauce.
---