Cheese Fondue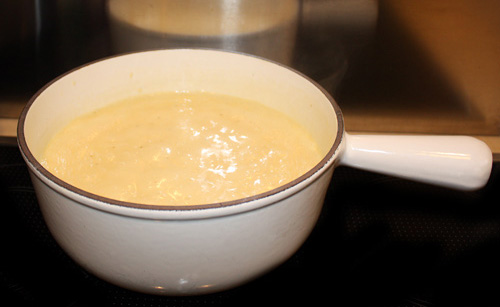 Still cool enough to make Fondue one more time, although we even used to make Fondue in Venezuela –   I  remember once eating Fondue at the Beach after bringing the air conditioner to the max, so it would be cold enough to survive eating such a meal in the tropics!!  Not very environment-friendly, but nobody knew that back in the 70's…
Ingredients:
250 gr gruyère cheese – grated
250 gr appenzeller cheese – grated
5 oz (150 ml) dry white wine
2 garlic cloves – chopped very, very finely
ground pepper
ground nutmeg
1/4 teaspoon dijon style mustard
1 tiny bit of lemon juice
1 teaspoon corn starch
1/2 oz (15 ml) Kirsch Wasser or white wine to dilute the corn starch
2 baguettes – cut into cubes
TIP: When making Fondue for kids, the wine and the Kirsch are substituted for sour Must (Most in german). It is made of apple juice, it is sour and it does not contain any alcohol.
Directions:
First you prepare the Fondue on the stove at med – high heat.
Press the garlic against the sides of the Caquelon .
Add the wine and warm up just a little bit.
Start adding the cheese (previously mixed), little by little, while stirring constantly. You are supposed to always stir tracing an 8!
Add a tiny bit of lemon juice.  This prevents the cheese from separating.
Add the cornstarch (previously diluted in Kirsch or wine).
Add the mustard, and then add  pepper and nutmeg to taste.
The fondue is ready as soon as it starts to boil. Now you can bring the Fondue to the table and place it on a Réchaud (spirit burner)
Serve with baguette.  Some people like to add a little bit of salami.
---