Pizza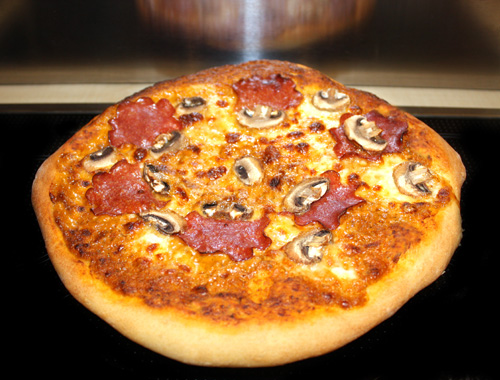 We like to make Pizza on Tuesdays, because the kids have sport until 6 pm, and then there's not enough time to cook. I usually set the bread machine to make the dough while we are away, so that as soon as we get home, we just have to form the pizza dough, and the kids get to "decorate" it – I just have to get the toppings ready.
Pizza Dough (for 1 large pizza – I usually double it for 4 – 5 people)
6 oz (200 ml) water
1.5 teaspoons dry yeast
3 Tablespoons olive oil
3/4 lb (350 gr) flour
1.5 teaspoon salt
1 teaspoon sugar
Directions – Dough:

Place all ingredients in a bread machine in the order given above (liquids first), and set the machine to make a dough. Here you see that I'm making 2 pizzas, so I needed to double the  ingredients.
Ingredients for Pizza Sauce
1 cup tomato puree
1/2 cup pesto (see recipe or use your favorite brand for a quick sauce)
1 teaspoon sugar
1 teaspoon salt
Directions
Mix all ingredients to make the sauce.
Pizza Ingredients:
Mozzarella
Sauce (above)
Dough (above)
Any combination of the following:
Salami, pepperoni, ham, onion slices, tomato slices, bacon, or any topping of your choice…
Directions:
Form your pizza dough, and let rest for 15 minutes.
Add 2 tablespoons of sauce per pizza, and arrange your favorite toppings on top.
Bake at 350ºF (180ºC) for around 15 minutes.
---