Ceasar style salad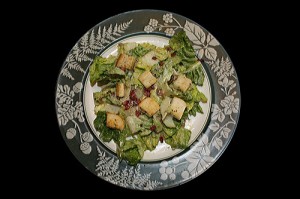 This is definitely my version of a classic.  My mom used to make this dish with eggs (the original), but I prefer mayo to go on the "safe" side…   I also like to add a little bit of balsamic vinegar because its sweetness adds a really nice touch to it.
Ingredients:
8 Anchovies, chopped small.
2 Tablespoons mayonnaise
1 teaspoon Dijon mustard
1 garlic clove , crushed or 1/2 teaspoon garlic powder
1/2 teaspoon salt (more or less, depends on how salty the anchovies are)
1 Tablespoon dried parsley
Pepper
1/2 lemon – juice
2 Tablespoon white balsamic vinegar
8 Tablespoons olive oil
Worcestershire sauce
Parmesan cheese
2 romiane lettuces (clean and cut in smaller pieces)
10 bacon strips, fried and chopped
Directions:
Mix the mayo and the mustard.
Add salt, pepper, garlic, parsley, and about 4 dashes of Worcestershire sauce.
Add lemon juice and vinegar.  The balsamic vinegar adds a little bit of sweetness to the dressing…
Now mix in the Olive oil and add the anchovies at the end.
Mix it all well and taste.  Sometimes the lemons are very mild and it should taste great, but sometimes they a little bit bitter and you need to compensate by adding more olive oil… same goes with the salt and the anchovies…
Mix the salad and the dressing when you are ready to serve.  Add the bacon, parmesan and croutons at the end.  I usually serve the croutons on a separate dish and only add them when serving on top , since I like them to stay crunchy.
See Ceasar style salad with chicken for the chicken marinade.
---