Perico – Venezuelan scrambled eggs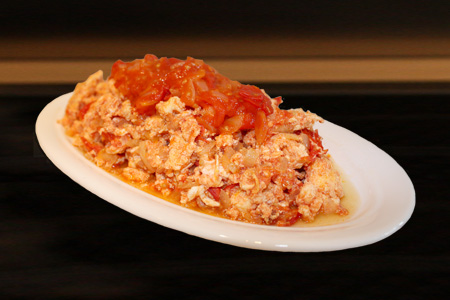 This is the way scrambled eggs are eaten in Venezuela.  Since we are on vacation right now, I had enough time to make this for breakfast…
Ingredients:
6 Tomatoes
1 Onion
8 Eggs
1 teaspoon salt
Ground pepper
Oil
Directions:
Chop the onion finely and fry it on medium heat while you prepare the tomatoes.
Cut the tomatoes in medium chunks, about 1″ – 1  1/2″ (2 cm). Add to the onions and fry for about 25 min.

Add the salt and pepper.
When the tomato juice has reduced and the tomatoes and the onions are well cooked, push them to the sides of the pan to make room to make the eggs.
Scramble the eggs, add a little bit of oil to the pan and add the scrambled eggs to the pan.
Let it set a little bit, and then, with a spatula or a wooden spoon scrape the bottom of the pan so that  more egg batter can reach the pan (repeat this procedure a few times).  This lets you cook the eggs a little bit before you start to mix them with the onions and the tomatoes.  This way, you also get "chunks" of scrambled eggs, along with the onion and tomato mix.
Continue cooking for another 10 min, mixing it all very well, until the eggs are thoroughly cooked.
In Venezuela this dish is usually served with Arepas.
(Serves 4)
---